Busy the Beaver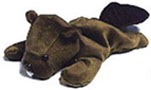 Busy the Beaver
Description:

Busy, our beaver, being such a hard worker reminds us of how we should do our work in Ephesians Chapter 6 verse 7.

Copyright © 1998, Bible Verse, Inc.
Scripture:

"Do your work, and be happy to do it. Work as if you were serving the Lord, not as if you were serving only men."

Ephesians 6:7 (ICB)*


Bible Verse BabyTM Collection
Issue
Price
Born Again
#1030
Sold Out!
September 14, 1998

Bible Verse BabyTM Catalog




Back to "Bibleverse.com"

* "Scriptures quoted from The Holy Bible, New Century Version, copyright © 1987, 1988, 1991 by World Publishing, Nashville, TN 37214. Used by permission."

All scans done for Bibleverse.com are prohibited from being copied. All applicable Copyright © laws apply and are reserved by the Christ-Centered Mall.
Web pages copyright © 1998.